Dark Knight MU Online Guide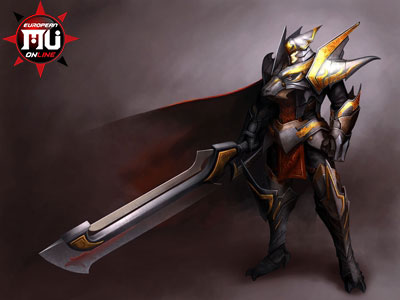 Dark Knights are powerful characters which are great in close combat. They possess great physical strength and can use powerful weaponry.
The Dark Knight's main quest in MU online is to save the continent from the Kundun's evil oppression. If you enjoy hand to hand combat and pure enemy slashing, then the Dark Knight is your best choice. This warrior doesn't have any kind of magic. His physical strength is so great that he doesn't even need any kind of magic spells. In MU Online, these warriors can level up without any kind of party or help especially because they become stronger really quick. They aren't that fast but they can withstand heavy attacks because of their powerful physique.
Dark Knights are real men! When they're in the front line of a battle amongst other players, if they get too many hits from everyone, they can regain their life and power by using potions. Our warrior can use almost every weapon he can find in the great MU continent, starting with small axes and ending with huge or powerful swords and spears. He can protect himself by using armours and shields but one of the strongest sets in MU online is Dragon (yes, it's made out of a slayed dragon). Even though he is strong enough to withstand a monster's attack by remaining still, he tries to avoid any kind of attack without letting the monster touching him.
The Dark Knight also has some special sword skills which resemble with magic spells but they aren't quite like that even though they consume mana. Finally, a warrior like this is well known for his battle agility and great strength which help him with his quests.